Technical Support
ArcusStone provides a range of technical support services for our products. Our technical representatives, as well as our regional distributors, are available to help provide solutions for the following project-related matters:
Design and detailing questions
Maintenance, restoration and repair
Job-site conditions
LEED project certification
Samples
In addition to our standard colors, textures and finishes, we welcome the challenge to create exactly the look you want. Contact us for information regarding custom colors and samples.
Applicator Training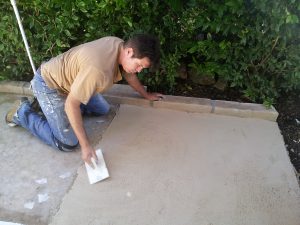 Although the basic application of ArcusStone coatings (Arcus StoneCoat™ and Arcus CementPlaster™) is essentially the same as other troweled plaster products, the finishing process is not. And, since the most important component of a good job is the skilled applicator, he must be familiar with the techniques needed to achieve the various decorative finishes.
Hands-on workshops are scheduled, as needed, for those interested in becoming trained applicators. If you would like more information about training, please let us know. You can contact us here.